SEAFARING AS A CAREER
Interested in progressing your career as a seafarer?
I am still at school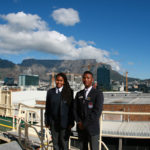 Candidates must complete the following Grade 12 subjects with a minimum 60 percent pass: Pure Mathematics, Physical Science and English in order to obtain the required entry level percentage to be considered for enrolment into any the following accredited tertiary maritime institutions.
Applications to the institution of choice needs to be made in August each year.  An online application needs to be completed and applicants need to submit copies of their Grade 11 and 12 (Term 2) report, certified IDs and other documents.
I have completed my academic studies at a tertiary institution and require seatime
Students wishing to be included in the sea-going phase, must have completed and successfully passed all academic/theoretical components of the Deck (Navigation) or Marine Engineering Officer Programmes – as required under the STCW Convention, as amended and the SAMSA Code, as amended.
Requirements as follows:
A valid SAMSA (or higher-requirement Flag state) medical examination, with a 'fit-for-duty' medical certificate
A valid SAMSA eyesight test
A valid South African Passport
Updated CV
Final academic record with all required subjects
All documents to be submitted using our online application form. Click here to access the form.
I am already qualified and looking for a new career opportunity
If you are qualified, please complete the CV form on the link below.
Click here to access the form.
Please ensure you have completed all required fields and provided all the necessary and required supporting documentation.
Incomplete applications will not be considered.
APPLICATION CHECKLIST:
Please have original or scanned copies – in pdf or jpg format – of the following documents available for uploading.
Updated CV, with details of all related work.
Three contactable supervisory work references from three different vessels/companies.
Full set STCW training certificate copies (Medical First Aid, PSSR, PST, CISC, Fire Fighting, Designated Security Duties) – Officers will require additional certificates, as applicable.
Your Certificate of Proficiency (CoP) or Certificate of Competency (CoC).
Copy of your valid seaman's record book (new books have expiry dates).
Your valid medical certificates (SAMSA).
Your vaccination booklet.
Last performance appraisals (from each vessel served on).
Should you qualify for consideration, one of the MCS team will contact you for an interview.